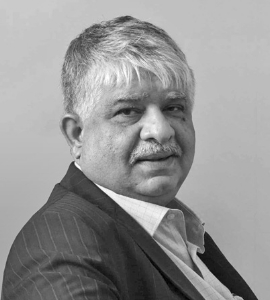 Madan Bahal
Co-founder & Managing Director
Madan Bahal is the Co-Founder & Managing Director of Adfactors PR, India's largest and most awarded public relations firm. Adfactors PR is also the youngest and the only independent firm in its peer group in India.
In November 2017, the International Communications Consultancy Organisation (ICCO) inducted Mr. Bahal in its Hall of Fame. Earlier, in January 2016, The Holmes Report had named him as one of the 16 people from the international marketing communications and public relations industries who were poised to make waves in 2016. PRWeek, too has been including Mr. Bahal in its Global Power Book since June 2015. In 2013, Mr. Bahal was recognised for 'Individual outstanding achievement' in Asia-Pac by The Holmes Report. Mr Bahal is a member of the esteemed Arthur W. Page Society.
The firm, under his leadership, has been winning multiple accolades in Indian, Asian and global PR industry platforms. The Holmes Report conferred the firm with Asia-Pacific Corporate-PA Consultancy in 2018, Global Corporate Agency in 2016, Global Financial Agency in 2015, and Asia-Pac Financial Consultancy of the Year in 2015 and 2013. In 2016, Adfactors PR had won all five Agency of the Year awards for India. In the last five years since 2014 that the firm has started participating in industry awards, Adfactors PR has been winning a market-leading tally of awards each year for campaign excellence.
Mr. Bahal is also the member of the governing council of The Yoga Institute, Mumbai. The Institute is the world's oldest body of organised yoga teaching. He lives in Mumbai with his wife, Dolly, and sons, Neil and Gautam.