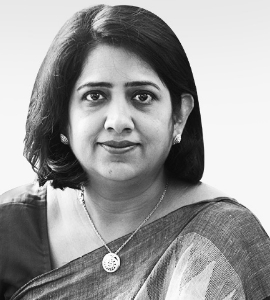 Arwa Husain
Director
Arwa Husain, as Director – Financial Services, is an important member of the senior management team at Adfactors PR. The Financial Services practice is the largest within the firm and is perhaps the largest BFSI vertical under one roof at any agency in Asia.
Ms Husain, who joined Adfactors PR in 2006, is acknowledged for making rich personal contributions to the firm's business growth in the financial services space. Her key responsibilities include providing strategic board-level counsel to her clients, building and managing key media relations at the editor, chief of bureau levels, and directing teams to achieve client's strategic goals.
Her portfolio includes large MNC banks, investment banks, life insurance companies, non-life insurers, and global private equity investors. She has serviced clients of varying levels of complexity: From private equity investors that may have 2-3 transactions per annum to a life insurance company with nation-wide retail distribution and potential crisis flashpoints every week.
Some of her clients have received global awards for work done in corporate reputation management and campaign planning. These include ICICI Bank, RBS Bank, ICICI Lombard, Xpress Money and Aviva Life Insurance.
Ms Husain has over two decades of work experience; she started her career as a journalist with a leading financial daily in Mumbai, followed by equity research, and then into public relations.
She has a Master's degree in Economics from Mumbai University, and is an alumna of an executive MBA programme at Harvard University.