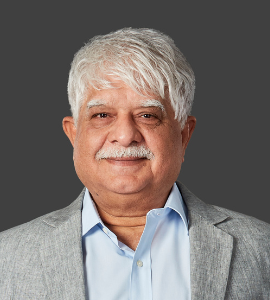 Madan Bahal
Co-founder & Managing Director
Madan Bahal is the Co-Founder and Managing Director of Adfactors PR, India's largest and most recognised public relations firm. Founded in 1997, Adfactors PR is also the youngest and the only independent firm in its peer group in India.
Over the last 25 years, Mr Bahal has had the privilege to serve as a lead communication counsel in many of the milestone events of Corporate India, including fundraises, M&As, disputes, litigations, issues, and crises. The firm currently serves over 500 retained clients, including many of India's leading conglomerates, corporations, unicorns, financial institutions, and NGOs.
In September 2022, the Arthur W. Page Society inducted Mr Bahal into its Hall of Fame. Some of the prominent recognitions that he has received so far include: International Communications Consultancy Organization's (ICCO) Hall Of Fame (November 2017), PRovoke's Individual outstanding achievement in Asia-Pac (September 2013), Communicator of the Decade by the Public Relations Council of India (PRCI), and the Life Time Achievement Award by the Public Relations Society of India (PRSI).
In October 2020, PRovoke recognised his firm as one of the seven global agencies of the decade.
A vocal advocate of continuous learning and development for PR practitioners, Mr Bahal is regarded for providing leadership to the Indian PR industry during major adverse events such as the global financial meltdown during 2008, and the two years of the Covid-19 pandemic.
Mr Bahal is also a member of the governing council of The Yoga Institute, Mumbai – the world's oldest body of organised yoga teaching. He lives in Mumbai with his wife, Dolly, and sons, Neil and Gautam.