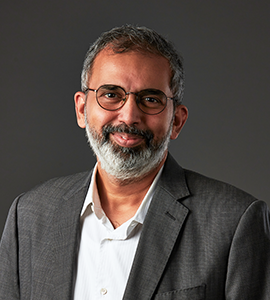 Manoj Warrier
Director
Manoj Warrier is an integral part of the senior management team at Adfactors PR, working in the capacity of Director. He leads the Corporate practice, guiding a large team of PR professionals who come from diverse backgrounds with vast experience at some of the largest Indian conglomerates, clean energy companies, chemicals and consumer brands. He has over two decades of experience in the communications industry. Manoj worked closely with Ratan Tata and Mukesh Ambani in the last ten years.

Manoj's expertise is not limited to Indian conglomerates; he has also worked with India's most celebrated cricket genius – Sachin Tendulkar. In 2002, Manoj joined Vaishnavi Corporate Communications working on mandates of some of the flagship Tata Group companies, including Tata Sons, Tata Consultancy Services, Tata Steel, and Tata Power, among others.

As part of Neucom Consulting, Manoj Warrier led the team in supporting the communication efforts for Reliance Industries, including Reliance Retail, Reliance IMG, and the Indian Premier League team (Mumbai Indians). He set up Wordlab Asia for Push Integrated and built it with eminent clients such as Kalyan Jewellers, Aster DM Healthcare, Universal Sports Biz, Sachin Tendulkar's sports management company called SRT Sports Management, Ruchi Soya, among others. He subsequently set up Rubique Consulting with a team of 18 professionals across India and Dubai markets before integrating it with Adfactors PR.