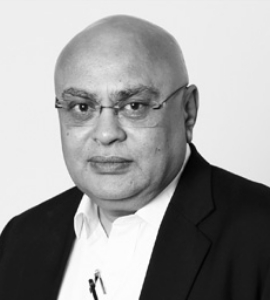 Dr. Pradeep Raje
Executive Director
Dr. Pradeep Raje heads the BFSI practice of Adfactors PR in the capacity of Executive Director. The Practice is one of the largest within the firm and is perhaps the largest BFSI vertical under one roof at any agency in Asia.
Prior to PR, he has worked as a commercial banker and a Senior Editor with Business Standard for long stints of a decade in each role. Dr Raje has earned a doctorate in economics.
He works closely with three teams – each headed by an industry veteran, with close to two decades of work experience. Under his leadership, the BFSI team has delivered numerous cutting-edge professional work over the last decade.
Along the way, the agency has earned numerous industry recognitions, including The Holmes Report's 'Asia-Pac Financial Consultancy of the Year' in 2015 and 2013, and 'Global Financial Consultancy' in 2015. Also, one of the team's campaigns for the State Bank of India was adjudged among the top 40 campaigns in the world by The Homes Report in 2015.
His current KRAs include providing strategic advice to clients, inducting new clients and handling crisis mandates. He regularly steps in to ensure mission-critical delivery aspects for key clients. Dr. Raje is a key resource person for clients seeking to refine their views on a range of issues in the economy.