Our Expertise
Experiential PR & Events
An agency-wide service designed to deliver virtual as well as hybrid experiences either as stand-alone events or to compliment existing influencer campaigns.
Thanks to the rapid global digitization and connectivity revolution, the competition for people's attention and interest has never been more fierce. The scenario is particularly cut throat when it comes to online and virtual events. More and more clients are aiming to integrate the resounding power of storytelling, influencer engagement, positioning and unsurprisingly, the idea of provocation to drive home their message and connect with their audiences.
With the COVID - 19 pandemic, this shift has become even more critical, with a steep rise in the demand for continuous engagement with consumers, partners, employees, investors, and other stakeholders through experiential PR.
The idea of virtual engagement through events or as part of an ongoing communications programme is thriving, and experiential PR is going to be a determining factor for the success of public relations.
Zarif Tapia
Vice President
Zarif Tapia is a 20-year veteran of events and experiential marketing in India. Zarif has previously worked with leading experiential divisions, events marketing firms, and event agencies. A Science graduate from Mumbai University and M.B.A. in Marketing; Zarif is passionate about fitness, coaching and transformational learning.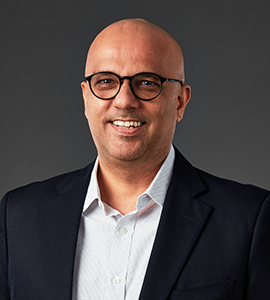 How we can help
At Adfactors PR, we believe in constant evolution and innovation in our communication strategies. Our Experiential Marketing & Virtual Events team delivers virtual conferences for employees, partners, customers and other stakeholders, as well as virtual town halls, product launches, international events and other online experiences.
The team is equipped to deliver interactive studio-style broadcasts, digital avatars, interactive content, gamification apps, all creatively conceived and implemented to meet your brand's business and communications objectives.
New technologies such as augmented reality and artificial intelligence are a backbone for our experiential PR initiatives, enabling creative communications and storytelling for our clients.
What drives our success is the ability to deliver ingenious experiential PR campaigns that are tailored to our clients' strategic organizational objectives. We enable interactive storytelling focused on building a stronger bond between consumers and brands.
We understand the power of social and digital media, and with emerging technologies as our backbone, we deliver unforgettable virtual experiences to your audiences, customised to your brand's promise.
To learn more, please contact business@adfactorspr.com
Adfactors PR Virtual Events show reel