SECTORS
New Energy Practice
The Indian energy sector is facing a complex and unique challenge. While energy is quintessential to power growth in the world's fastest-growing major economy, India needs to actively pursue its decarbonization goals, build renewable capacity at scale, and ensure the shift from fossil to green doesn't cause significant disruption. The challenge, though daunting, also provides an unprecedented opportunity for India to carve its place as a global leader that has steered a mammoth economy on the path of sustainable and green growth, thereby making an immense contribution to the fight against climate change.

As the Government sets out to achieve a Net Zero economy by 2070 and 500 GW of renewable capacity by 2030, a string of business, financial, regulatory, policy, and socioeconomic challenges will likely make this transition a roller coaster ride.

As this dynamic landscape unfolds, Adfactors PR strives to be the trusted and committed partner in India's energy transition, where we aim to strike the delicate balance between today's reality and tomorrow's expectations. The New Energy Practice builds on strengths, capabilities, and potential opportunities, empowering customers with forward-looking solutions tailored to the unique demands of the Indian market.
Our mission is simple—deleverage risks, demystify complexity, and build on the latent competitive advantages of our customers.
Aabhas Pandya
Vice President
A communications professional and a former journalist, Aabhas brings with him a rich experience of over 25 years. He provides strategic counsel to a clutch of key clients including, on crisis, manages key media relations, drives media led advocacy and provides quality content in quick time. Aabhas is also passionate about emerging areas like ESG and its inextricable link with corporate reputation in the not too distant future. A journalist for 16 years, Aabhas has covered a wide variety of beats – energy, finance, markets and Parliament proceedings. At Adfactors PR, Aabhas is an integral part of the dynamic and ever-evolving energy, infrastructure and BFSI verticals.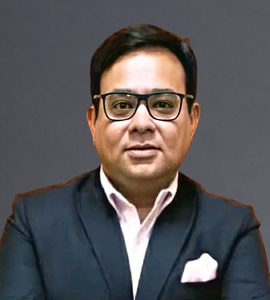 How we can help
We provide creative Strategic Communications counsel, on-ground execution, boardroom to Go-To-Market communications suite, and scaling solutions for the end-to-end energy value chain. Given our in-depth unparalleled depth of knowledge and insights into intricacies of the energy sector, we assist traditional power generators as well as oil exploration companies in decoding the new order and expectations of new set of investors like ESG funds.
Our robust portfolio of marquee clients includes players in solar, wind, PV manufacturing, energy management, integrated power producers, energy digitization, oil marketing and refining, and smart metering. Our holistic, full-service capabilities, including issues and crisis management, strategic and digital counsel, public advocacy, ESG counsel, and sustainability, also empower our practice.
A quick response, full-service skills drive our practice, resulting in unrivalled reputation management, financial communications, and guidance on sustainability.